Thanks for checking us out!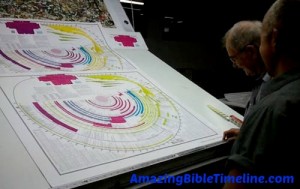 Bible Charts and Maps, LLC is an International team of fact checkers, researchers, graphic artists, web designers, and printers – all committed to bringing you an accurate, impartial Bible timeline to support you in your Bible study and discovery.
Bible Charts and Maps has printed, updated and made careful revisions to the Amazing Bible Timeline with World History since 1970 and has over 100,000 satisfied customers around the world.
Our goal is to provide top quality products that make you happy and support your Bible study. We back this goal with our 60 day guarantee.
Our Guarantee
We want you, our customer, to be 100% satisfied. Call us toll free at 877-966-7300.
What if you just don't like it or it just doesn't fit your needs. Mail it back within 60 days in new condition and we'll refund your purchase price. The risk is on us. Please see our terms and conditions for full detail.