Description
Testimonials
Dan Ciha
via email feedback
I love geography and find maps an enhancement to the studies, whether in Old or New Testament.  I have been leading a Disciple series for three years now.  Some of the others in the study do not enjoy maps as I do, so it enriches their experience and understanding of where Abraham's journey started and ended and why it took so much time or why it took Paul so long to get from Point A to Point B on any of his journeys and where he ended up and the relation of the cities where he spent time to one another (Corinth and Athens for example).   As we start a new chapter we spend some time looking at maps as well as historical timelines – which is why I ordered the Bible timeline.  Overall, it gives the participants a deeper understanding of the relationship between God's plan...time ...and geography.  Hope this helps...
The map is pleasing and the topographical info is useful. The size looks right for a standard twelve by fourteen foot classroom.
I use maps to show battles the children of Israel were in, such as the time Gideon lead the 300 against Midian. I like to show where the battle took place. Of the time Deborah and Barak fought against Jabin king of Canaan. How the battle took place on the plains near the river of Kishon, where God caused rain above the battle, flooding the plains which then caused the chariots of iron to get bogged down bringing victory to Barak. Maps that show where Babylon was when Judea was taken captive. Or how the 10 northern tribes were captured by the Assyrians, where this took place and where they ended up.
I like maps with as much detail as possible, showing elevation, rivers and landmarks.
I like to show that when they went "up to Jerusalem ", that they were actually climbing up a grade.
I also use maps showing where the churches were in the first century, and Pauls journeys.
Giant poster (22 inches by 36 inches) packed with detail!

See past and present boundaries
Where was Ur? Or Haran? The map quickly shows you that Ur was located in present day Iran and the ruins of Haran, also known as Harran, are in present day Turkey.
Know the reason events happened as they did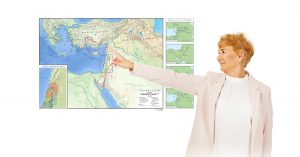 Terah took Abraham and his family all the way up to Haran (in Turkey) before Abraham eventually headed to Canaan.  Why not take the shorter route in a straight line from Ur to Canaan?
The map makes it obvious.  They were following the rivers rather than head across an almost endless tract of desert.  That made sense since they must have had herds of animals.  (One class used this as a Bible study discussion:  When has God taken you the long way around to the promised blessing?)
Understand the impact of the social, political and religious background
The map shows that Jonah passed ports in Israel to catch a ship from a port in the Philistine territory.  Why?
Many people in that day and age believed each nation had it's own God.
Did Jonah think that if he left Israel God would have no power over him?
Easily measure how far Paul, the Israelites, Christ or Abraham traveled
Have you ever wondered how far Abraham had to chase after the enemies who kidnapped Lot.  Using the map measuring tool you find it's about 125 miles (201 kilometers.)  Then he and his men chased the enemy for another 50 miles (80 km).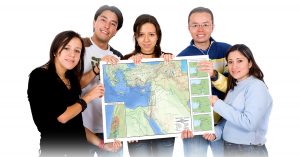 When you read the story of Naomi moving from Bethlehem to Moab and then back with Ruth, the journey there and back is long.  After hearing the story, when asked to guess how far apart the two areas are, many youth guess hundreds of miles/kilometers.
It's only thirty miles but a huge cultural gulf away.  Today we cover thirty miles in a quick car trip.  During Biblical times, it was days of journeying.
Brings the Bible vividly to life – makes it feel real
How did Joseph's brothers see him coming "afar off?"  Was the appearance of those traders who bought Joseph an unlikely coincidence?  Topographic detail on a map shows the land is a series of high and low desert places where, from a ridge top, his brothers could easily see Joseph coming from far off, especially given the vibrant colors of his coat.  A map shows the well-traveled trade routes between ancient middle eastern kingdoms and Egypt.  It would have been stranger if a trade caravan had NOT appeared.
Seeing the Biblical places on a map helps you understand today's conflicts better
The West Bank is a source of constant conflict today. This conflict goes back to Biblical times.  David, a desert dweller, built his palace right next to the best source of water. Whoever controls the West Bank controls access to the water. That is why it is a source of contention today.
Take advantage of our
Limited Time Offer*

. Holy Land Maps just $29.95

Save when you get two or more with volume pricing built into the cart
Want it laminated? Add lamination for only $5.00 per map!

Printed on the same sturdy, durable card stock as the Amazing Bible Time Line (heavier than poster or other paper)
Years of wear and value with Scuff coat varnish
Rolled for shipping No bends or creases
Sent USPS with tracking included. We ship to APO's and PO Boxes, Alaska, Hawaii and overseas
Take Advantage of Our Limited Time Offer - Because You Don't Want To Miss Out!
Order Now! And get Digital Maps of the Holy Land on your computer (a $25.00 value) Free!
Available for immediate download! (takes 1 to 5 minutes)

$39.95 – $44.95Select options

or call toll free 877-966-7300 / or 816-584-3077
Order Now! And get Digital Maps of the Holy Land on your computer (a $25.00 value) Free!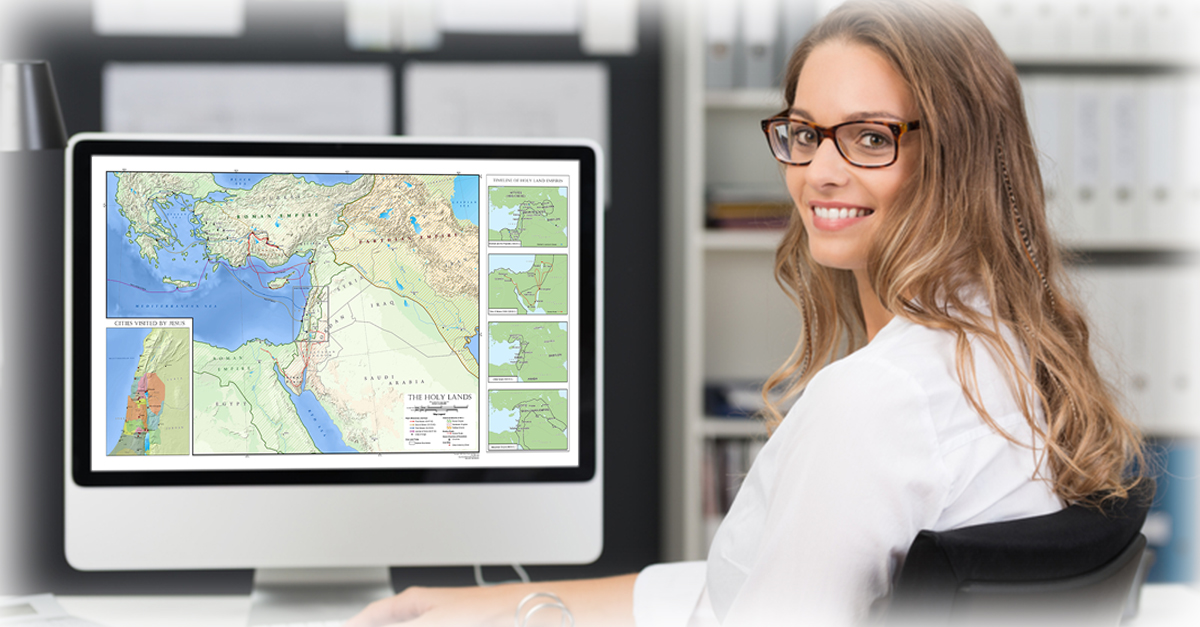 All of the information on the Giant Holy Land Map Poster
Countless options -turn views on or off to compare different time frames to each other or to the nations of today

Quickly find unfamiliar places with the digital search function
Zoom in to see fine details
Digital projectors allow dozens of people to see an 8-20 ft screen.

A simple click lets you move from one teaching/studying tool to another

Multiple uses: Print on standard paper, with transparencies for easy portability
Project for larger classrooms, use for slide shows, Powerpoint and more
Available for immediate download! (takes 1- 5 minutes depending on your computer speed)
Our Guarantee
We want you, our customer, to be 100% satisfied. Call us toll free at 877-966-7300 or 816-584-3077.
What if you just don't like it or it just doesn't fit your needs. Mail it back within 60 days in new condition and we'll refund your full purchase price. The risk is on us.
Yes! Send my Holy Land Maps Now!


$29.95 for one (volume pricing available in cart)
Take Advantage of Our Limited Time Offer - Because You Don't Want To Miss Out!
Order Now! And get Digital Maps of the Holy Land on your computer (a $25.00 value) Free!
Available for immediate download! (takes 1 to 5 minutes)

$39.95 – $44.95Select options

or call toll free
877-966-7300 / or 816-584-3077